Welcome to Gold Star Goldens
GOLDEN RETRIEVER'S IN SOUTH JERSEY: MEMBERS IN GOOD STANDING OF THE GOLDEN RETRIEVER CLUB OF AMERICA (GRCA), AND THE NEW JERSEY PINE BARREN'S GOLDEN RETRIEVER CLUB (NJPBGRC)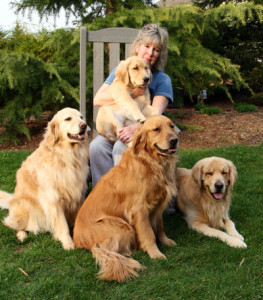 Gold Star Goldens is a Golden Retriever Puppy breeder located in South Jersey.
For many years we have owned and loved, what we and many others feel is, one of the best breeds in dog history, the Golden Retriever.
After years of owning and learning about the Golden Retriever, from puppyhood to adulthood, health, grooming to exercise, we decided it was time to take our knowledge and our love of the breed and give the gift of Golden Retriever Puppies in South Jersey.
Please take a moment to view our website and get to know our dogs by visiting the Gold Star Golden Photo Gallery Page! You'll see that beside having that great Golden Retriever temperament, they are happy and healthy pups, and may be a little on the pampered side…